Vehicle Inspector John Gregory talks about BuySure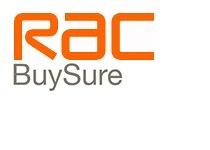 We know how hard it can be to buy a second-hand car. It can be a worrying experience and motorists can find themselves confused and unsure about who to trust. In response, we have created the RAC BuySure used car programme with an 80-point RAC Approved Preparation Standard on every vehicle bought through RAC Approved Dealers.
Alongside the security this brings, drivers also receive 6 months' complimentary RAC Warranty cover, 12 months of complimentary RAC breakdown cover and enrolment to RAC Accident Management Service, supporting the motorist in the event of an accident.
Here, RAC vehicle engineer John Gregory explains how all of this combines to give you peace of mind when looking for your ideal vehicle:
Why is it important that a car is so thoroughly checked?
Buying a car can become complicated and many people feel vulnerable or unsure of the right questions to ask. This can lead to feeling pressurised into buying a vehicle without going through the necessary tests. Having a car that has been confirmed fit and legal for sale by a qualified professional takes away these problems before you've even looked at it.
Why did the RAC develop the 80-point check for its Approved Dealer Network?
The RAC has been inspecting vehicles for nearly 100 years and has a wealth of technical and practical expertise. This has been refined for the second-hand car market and has been road tested by our senior team to ensure that all bases have been covered. Across our 98-year history we have been on the side of motorists and through RAC BuySure we aim to ensure that buying a car is easier and safer than ever.
What documents are checked for and why is it important?
To ensure the vehicle is legal and the person selling it is allowed to do so, it is important to verify the Vehicle Registration Document for authenticity and correct vehicle details as well as obtaining an 'HPI Check' or Vehicle History Report to ensure the vehicle has no outstanding finance against it. This also clarifies its status on the condition alert registers, which can reveal whether it's been subject to a major insurance or accident claim. The other document inspections find out whether or not it is listed on the stolen register or marked with a mileage discrepancy notice. Then there is a the MOT Certification through the Vehicle and Operator Services Agency.
What examinations are done as part of the road test?
The main focus is on the general behaviour of the vehicle. Particular attention is paid to how the clutch, transmission, steering, suspension and brakes perform, as well as listening out for strange and abnormal noises, checking the gauges and warning lamps and looking for any excessive emissions from the exhaust.
What are the tell-tale signs on the outside of a vehicle that indicate potential problems?
This is particularly relevant as many people buy a car on its looks, so hearts can rule heads very easily. The aim is to look for structural damage and check the alignment of body panels and paint finish to assess and identify any repairs carried out. Checking the mirrors and lights work as well as ensuring all the locks, catches, and supports do also helps 'build the picture'. Other investigations include looking for dents and scratches that are visible to the eye from two metres away.
Are there specific problems with the inside of car that would immediately give it away as being dubious?
The most important thing is to verify all the vehicle documentation and ensure the person selling the car is legally allowed to do so. If the engine coolant and oil levels are low or we see excessive exhaust smoke, this may indicate poor maintenance, leakage or significant engine wear that could be potentially expensive to repair. Then look out for little things, for example, if it only has 7,000 miles on the clock but the seats, carpets or foot pedal rubbers are very warn, this would warrant scrutiny of the mileage reading.
What is the key to diagnosing engine problems?
There are many ways engines can be made to look or sound better than they actually are, but usually there are ways to detect if something has been 'spruced up' for sale. For example, a vehicle that has had the engine bay 'steam cleaned' may have been done to remove any evidence of fluid leaks. Our tests carry out a full examination of all levels of fluids such as the engine oil, coolant, brake, clutch, steering and battery. We check for damage or chafing of pipes and auxiliary belts as well as assessing the condition of the main components of the car, such as the radiator, oil cooler and intercooler. Checking to see if the engine starts easily when cold and hot and listen for abnormal noise or poor running symptoms and excessive smoke emissions is also on our 'hitlist'.
Do you get right under the car to check for issues you might not be able to see from the road?

This is a very important part of our 80-point check as not many people would know what to look for underneath the vehicle itself. The kinds of things we'd be assessing would be the condition of the exhaust, exhaust mountings, clamps and its security, that the chassis is free from extensive corrosion, damage or structural repairs, that the brake pads have a minimum of 50% material remaining and the condition of the steering and suspension components.
How can I expect my vehicle to look when I pick it up?
Every car we provide clearance to will have been fully cleaned and valeted, contain an owners guide, have all keys and remote fobs in working order and have a service history where applicable.
What are the main benefits I can expect to receive from this service?

Our experience tells us that people who have a car checked in this way feel safer, less stressed or anxious and feel that everything is on a level playing field when they enter into negotiations. RAC Approved Dealers are committed to providing the best quality cars and service to ensure the buyer receives a great vehicle and peace of mind in return. Altogether, it's a win-win!
Buy a second-hand car with confidence with Wirral Small Cars your official RAC Approved Dealer.
Address:
Wirral Small Cars,
The Mount, Heswall,
The Wirral.
CH60 4RE
Phone: 0151 342 9888
Business Hours:
Monday to Friday
9am to 6pm
Saturday
9am to 5pm
Sunday
CLOSED
All material is copyrighted © 2018 Wirral Small Cars. All rights reserved.