Changes to the MOT test – which come into effect on Sunday (20 May) – are causing confusion among motorists, according to the RAC.
The changes, which are being introduced as part of a European Union directive, include new failure and defect categories, with faults labelled, 'Dangerous', 'Major' or 'Minor'.
Any vehicle receiving a dangerous or major fault will automatically fail, while a vehicle given a minor fault will still pass the MOT test, with a record of the fault being noted on the certificate.
According to the results of a new RAC survey, 49% of drivers incorrectly believe a minor fault would lead to a fail – while 6% wrongly believe their vehicle could still pass with a major fault.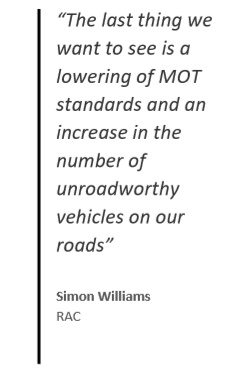 5% of respondents thought a vehicle found to have a 'dangerous' fault would pass the test.
The RAC describes public awareness of the changes as 'reasonable', with 44% of drivers saying they knew about them. Of those, 51% said they knew the date the changes came into force.
In January, the RAC expressed concern cialis 20mg that the changes have the potential to put vehicle safety at risk.
Among its biggest concerns was that the new classifications leave the seriousness of car defects open to interpretation by testers – something which 74% of respondents agree could happen. 59% thought the changes to the MOT test would be likely to lead to more vehicles failing.
Despite these concerns, the RAC says it is supportive of the changes.
Simon Williams, RAC spokesman, said: "It is important everyone quickly gets to grips with the changes to the MOT, and that test centres and garages do a good job of explaining the new fault categories so motorists understand correctly the severity of faults with their vehicles.
"Changes to the MOT that make vehicles using our roads safer are undoubtedly a positive step so we hope that testers everywhere interpret and apply the new rules fairly and consistently.
"The last thing we want to see is a lowering of MOT standards and an increase in the number of unroadworthy vehicles on our roads."